Easy installation instructions for your Attic Zipper
---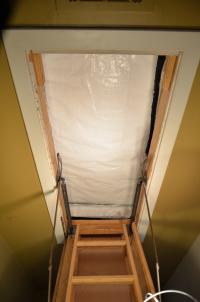 The Attic Zipper attic stair insulator is easy to install and dramatically reduces air transfer between your living space and the attic. Many homeowners complain that they are wasting expensive energy as air leaks out through the attic stair into their attic. They know that insulation would significantly improve the situation, but they still need to access your attic. We recommend the Attic Zipper as the perfect solution.
Proper installation is key to getting the most out of your Attic Zipper attic stair insulator. Follow the directions below, or contact an Attic Zipper specialist for support.
---
---
---
For more information on the benefits of installing Attic Zipper or to purchase an Attic Zipper, please contact 804-518-5094.