Attic Zipper's Attic Ladder Insulation cover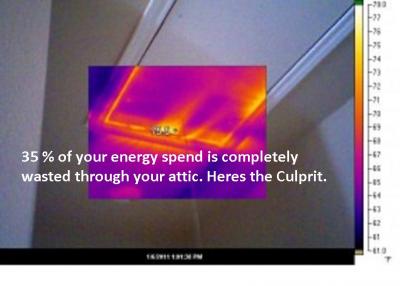 ---
You Could Save $20 to $30 Dollars a Month on Energy With One Simple Change ..If you own a home built in the last 100 years, chances are your attic is the biggest energy leak in your home--in the winter you're losing heat, and in the summer you're paying more for air conditioning bills.
To increase your house's energy efficiency in a meaningful way, you could spend $7000 or $8,000 on a high efficiency HVAC or A/C system complete with insulated duct work. If you're lucky enough to have a contractor who knows what they're doing, they won't forget the $200 dollar item that makes all the difference, Attic Zipper.
Attic Zipper Keeps Your Home Cool in the Summer & Warm in the Winter...Long before you call the contractor, try the Attic Zipper yourself and keep as much of the existing energy in your home as possible. Attic zipper is easy to install, simple to understand and stops 100% of draft and 98% of energy leakage from your attic ladder and hatch. The Attic Zipper blocks the energy loss and keeps your home energy-efficient, but still gives you easy access to your attic. For energy conservation..This may be the best $200 you'll spend this year.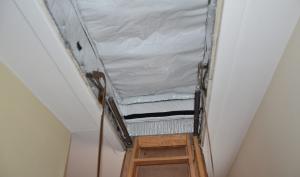 Bottom view once zipped shut. Still allows easy access to your attic and keeps bugs out. The Attic Zipper is made from a quality 3-ply laminate of d-420 nylon,

double reflective insulation bubble

& Poly tarp material and includes a TOP OF LINE YK weatherproof heavy duty zipper. It is 100% guaranteed to lower your energy consumption and stop the draft 100%.
---